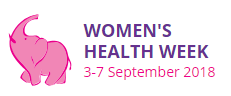 Pelvic power, happier hormones, mental wellbeing – those are some of the focal points of this year's Women's Health Week (WHW).
The first week in September has been dedicated to women's health since 2013.
It was founded by not-for-profit organisation Jean Hailes in a bid to encourage women to put themselves first and to think about their health and wellbeing.
A different health topic will be focused on each day from September 3 to 7.
No topic is off limits, the aim of the week to remove the "elephant in the room" which is why the WHW logo is an elephant.
"We know women can be so busy taking care of others they often fail to find the time for their own health," Jean Hailes executive director Janet Michelmore said.
"The week is a good reminder for women to put their own health at the top of their to-do list."
More than 60,000 women are expected to take part in more the 1500 events around the country. There are already more than 25,000 women registered to receive free health content via email.
"By signing up you'll receive free health tips, recipes, videos, podcasts and more, aimed at inspiring you to live a healthier life," Ms Michelmore said.
Get involved with the week by hosting or taking part an event during the week.
For more information about the week, go to: www.womenshealthweek.com.au.
---
Alex Kalliris
Psychotherapist